Race Training
All of us at Poole Sailing have a keen interest in Yacht Racing! Our Principal, Rob Gibson, has written the RYA's new handbook 'Racing for Yachts and Keel Boats.' So there is no better place to go for race training!Yacht racing is a 'Team Sport', in fact it is probably the best team sport in the world! For that reason we concentrate our Race Training and Coaching on teams, rather than individuals but in packages to suit your needs and aspirations! For instance:
New Teams – With a Yacht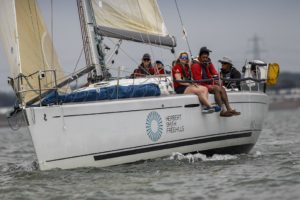 For newly formed teams or existing crews keen to give racing a try, we can provide an experienced Race Skipper to advise on Tactics, Boat Handling, Crew Organisation and Sail Handling Techniques, on your boat. They can even stay with you to guide you through your first event.
Price for this expert service is £400/day plus travelling expenses for events away from Poole.
New Teams – Without a Yacht
For teams who have not decided which boat to purchase or who intend chartering, we can provide the same service on one of our Racing Yachts! Our First 40.7's 'Addiction' and 'Sapphire' have race quality 'change' foresails, a selection of spinnakers and large cockpits, perfect for teams with a minimum of six and a maximum of ten crew.
Price is, £1400/day.